Amontillado Bodegas Poniente

These rare Poniente sherries are named after the warm and dry westerly Poniente wind which blows through the Straits of Gibraltar. Following the arc of history, winemaker Alberto Orte embraces his family's rich tradition of solera system wines from Montilla-Moriles to create this unparalleled project from El Aljibe. Poniente sherries are the product of the thoughtful blending of precious, treasured soleras and criaderas from the 18th and 19th centuries, refreshed in the traditional method each year with wine from our own organically farmed estate vineyards (San Cristóbal, San José y El Aljibe) in the Pago Añina, one of only three pago sites in Jeréz designated as Jeréz Superior. The wines are produced and aged in our historical estate, a restored house tucked among the vines of El Aljibe.
WHAT MAKES THIS WINE UNIQUE? This Amontillado comes from a system of six criaderas and one solera, with a median age of over 40 years. The wine used to refresh the sixth criadera comes from organically farmed vineyards and has a median age of 10 years. Unlike others, this Amontillado has never been fortified, but instead gradually transitioned into the oxidative aging phase of its life thanks to a gradual depletion of flor-sustaining nutrients and a slow but steady concentration of the wine.
GRAPE: 100% Palomino Fino
PAIRING SUGGESTIONS: We recommend serving chilled in a white wine glass, starting around 45F with optimal consumption reaching 54F. A gentle decanting will help the wine express itself more swiftly. The bottle can remain open for one year, although the longer it remains open, the wine may present with a slight haziness which will not affect its taste or texture. If cellaring for a long time in bottle, we recommend decanting before serving.
VINIFICATION AND AGEING: Saca 1/18: This is the very first saca of this wine. The wine has rested two years in the winery at El Aljibe before the saca. Ph XX. Volatile Acidity 0.99 gr/l.
PRODUCTION: 83 cases (3-packs)
ALCOHOL CONTENT: 20.53%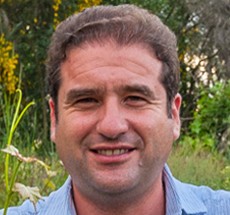 Alberto Orte
---