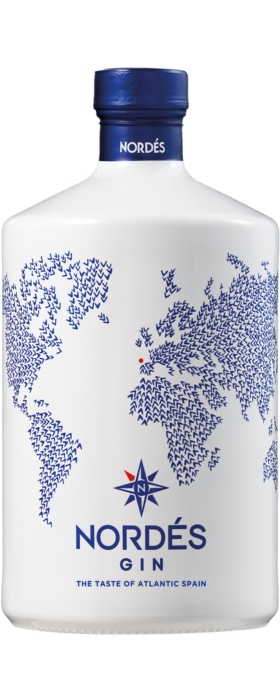 Nordés Atlantic Gin
Enter your zip code to find the closest retailer to purchase online
Winemaker Notes
A fresh, fruity nose, with citrusy notes from the lemon verbena and Albariño base, green herbal tones, as well as white fruit aromas and a whiff of sea salt. On the palate, fruit-forward and spicy, featuring white peach and the subtle undertone of juniper, with beautiful balance and a smooth profile.
Wine Information
In Spain, gin is a lifestyle – indeed, Spaniards drink more gin per capita than any other country in the world. Gintonics are an art form in Spain, designed to accentuate the aromatics in the gin, and served in large balloon glasses with garnishes that echo the primary botanicals. The most popular premium gin in Spain, representing one bottle out of every three consumed, is Nordés Atlantic Gin. Nordés is unmistakeably Galician – with a base that includes Albariño, and the presence of 6 native Galician botanicals which give it a fresh, aromatic and unmistakably maritime profile. With its smooth, bright character and hint of salinity, Nordés is a gin that can pair well with food, rather than clashing with or overpowering dishes. While it makes a sublime gintonic, Nordés is a versatile ingredient in a broad variety of cocktails, giving balance and fresh appeal to all manner of tipples!
click here for more information.